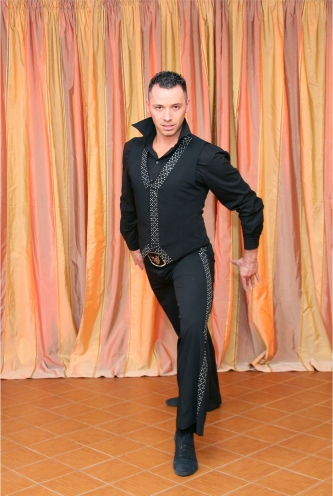 Simeon Stefanov (Moni) is one of the most perspective young salsa dancers and choreographers in Europe. He has born in Sofia, Bulgaria, where he grew up surrouded by people whose jobs are connected with arts: his father is an artist, his mother is a pianist, his grandmother taught opera singers, his grandfather was an actor and his ancle is a balley dancer. All this determines encourages and his interest in music and dancing.
At that moment he is studying for the final exams at Sofia University (the most prestigeous university in Bulgaria) where he is going to graduate as s lawer in september.
Moni started dancing salsa - casino style in 2001 and gradually changed to salsa on line. Parallel to this he broadened his knowledge in dances by taking private lessons in balley- classocal and modern; acrobatic rock-and-roll; ballroom dances, hio-hop, ets.
A few years later in 2005 he won first place at UK Salsa Championships - one of the most prestigeous tournaments in Europe. Shortly after that one of the biggest TV shopping companies in Europe (WS Teleshop) greatly impressed by his dancing skills offer him to make a self-study instructor in latin dances. This DVD-s appeare on europian market in 2006 and made Moni more popular.
Moni is a founder of Streetsalseros Dance Company, which is one of the leading salsa shcool in Bulgaria. Moni's increasing popularity makes diffrent TV channels invite him to present salsa style in their programmes. For the last 2 years he has been travelling round the world as a salsa teacher making workshops which emphasice on body movement isolation and coordination.